Miracles to Yesterday by David Brinkman
Lost and waiting to be found: King Richard III in America, an early British outpost fort that would bring birth to American independence, an early back-country Colonial village that could have been a Capital, the first Broad crossings of a new nation, the skirmish that marked the end of the American Civil War, and WWII D-Day invasion secrets of Europe and the Pacific.

Quietly settled into a software engineering job where he sat behind a computer all day long with little human interaction, David Brinkman's life took a dramatic change 20 years ago when his father died after a short illness. Striving simply to honor his father, he discovered history mysteries that each miraculously led to something bigger.

Over those next 20 years, the cumulative effect of dozens of coincidences, incredibly timed events, illogical and irrational decisions, and a near death experience tied the discoveries together into something bigger than the sum of all the finds. Along the way, Brinkman was transformed from an introverted geek whose most extensive outdoor project had been to dig a post hole for a mailbox to a dogged investigator making unlikely historical discoveries that led to international correspondences, public speaking requests, national television coverage, and the recognition as the 2017 Distinguished South Carolina Archaeologist of the Year. But, as Brinkman would slowly learn through all of this, that transformation and the discoveries were just side effects of something much bigger, something invisible to most, unless observed in just the right way.

This book attempts, in the most scientific way possible, to document the discoveries and help others to see the invisible force behind them.

David Brinkman was born in Myrtle Beach, South Carolina but has spent most of his life in Columbia. He graduated from Midlands Technical College with an A.S. in Electronics Engineering Technology and the University of South Carolina with a B.S. in Computer and Electrical Engineering. For 30 years, he worked as a software engineer for NCR, AT&T, and Intel Corporations. He is an officer and two-time past Chairman of the Greater Piedmont Chapter of the Explorers Club. Alongside David has been Odess, his wife of 24 years, who embraced with faith, all these miracles into time.

Table of Contents                                                                  Page
	
Table of Contents
Introduction                                                                        10
Chapter 1 - Science                                                                 11
Chapter 2 - Faith                                                                   15
Chapter 3 - A Father to Many                                                        27
Chapter 4 - The History Begins: Attack Transport APA-154 (The USS Lowndes)          32
Chapter 5 - Researching the Greatest Generation: A Historian is born                63
Chapter 6 - A Lot of History on the River                                           88
Chapter 7 - A Story of Broad Crossings                                              93
Chapter 8 - Heaven drops a Survey                                                  115
Chapter 9 - The Story of Sherman's Crossing                                        138
Chapter 10 - The Lourdes of Granby                                                 149
Chapter 11 - A Story of Granby                                                     159
Chapter 12 - The King is found                                                     210
Chapter 13 - A King's Match in America                                             225
Chapter 14 -  A Fort is Found                                                      240
Chapter 15 - A Story of Fort Congaree II                                           254
Chapter 16 - A State House and Tavern are Found                                    266
Chapter 17 - Miracles to Come? Was the Truth and Justice in the Old State House?   279
Chapter 18 - A Career Cut Short and the Calling                                    296
Chapter 19 - Miracles or not?                                                      305
Chapter 20 - A Final Tribute and Miracle                                           319
APPENDIX A: The History Timeline of Miracles to Yesterday                          326
APPENDIX B: The people of Sarah Friday's 1810 Granby                               331
Samuel Johnston home site:                                                         332
The Cake Shop site:                                                                334
The Tobacco Inspection and storage facility:                                       335
The Town Well site:                                                                336
Lewis Pou home site:                                                               336
Abraham Geiger site:                                                               337
James/John Patton's store site:                                                    338
Means store site:                                                                  339
Bell's store site:                                                                 339
Granby Courthouse site:                                                            343
Seibels Burying ground site:                                                       343
Seibels store site:                                                                345
Hane home site:                                                                    345
Hane Burying ground site:                                                          347
Muller's store site:                                                               348
Henry Muller home site:                                                            349
Hane Salt house site:                                                              349
Burk's store site:                                                                 349
Toy store site:                                                                    350
Mill site:                                                                         351
Distillery site:                                                                   352
Peter the Barber site:                                                             353
Jesse Sharp site:                                                                  353
Friday's Entertainments site:                                                      353
Mr. Cayce (Fort Granby) site:                                                      355
Mr. Cayce's store site:                                                            357
Black Smith site #1:                                                               357
Black Smith site #2:                                                               357
Captain John Hart home:                                                            358
APPENDIX C: Those that Dig History                                                 363
INDEX                                                                              369

Countdown to publication
King Richard III and the Knights of Templar?
A new find was brought to my attention by a fellow Ricardian while I was completing the chapters on Richard III. It all has to do with a painting in the Rothley Temple near Leicester, England. The painter is unknown, and the work is estimated to be the mid-1800s. The Rothley Temple property and building were given, by the first Plantagenet Kings, to the Knights of Templar in the 12th century.

After the first Crusade in 1118, a royal sanctioned Order of Knights was formed to carry our dangerous military operations and to protect Christians on pilgrimages from Europe to Jerusalem. The Knights were devoted Christians who dedicated themselves to the Virgin Mary and pledged to a life of poverty and chastity. Living at the site where the Temple of Solomon had stood, the Order would soon become known as the Knights of Templar. In 1127, the Templars were recognized by the Pope. By 1139, the Templars were given special rights and were only accountable to the Pope. Over the years, they garnered much admiration, trust, and wealth. So much so that people started trusting their fortunes with the Templars. Complex banking systems, security methods, and espionage were developed by the Templars to protect the wealth they held. Before long, there were chapters of the Templars all around Western Europe and they acquired vast land holdings.

Things started to change for the Templars when Muslim military actions retook Jerusalem in the late 12th century. One by one, the Crusader strongholds fell. Many people became concerned over the immense wealth that the Templars had acquired, and French King Philip IV launched an effort to bring an end to the Templar Order. When Pope Clement V gave in to pressure from King Philip, the Templars end was near. Thousands of Templars were rounded up and forced to confess to lies of heresy made up by their captors. Many of the Templars refused to confess and were tortured to death. Those who confessed would eventually go free but, they were broken men. The Order of the Knights of Templar was dissolved in 1312.

The detail in the Rothley Temple painting is impressive. The chapel is accurate down to minute details which show a priest blessing a Templar. The three different levels of Templar are shown in the painting in their three distinct uniforms. In the center of it all is a King of England. The painter, just like us, would have had access to the images of all the Kings of England but this image doesn't come close to the Kings of the Templar era. In fact, it is a dead-ringer for King Richard III's official portrait and the facial reconstruction completed on his skull in 2015. The problem is, of course, that Richard was born over 200 years after the last Templars.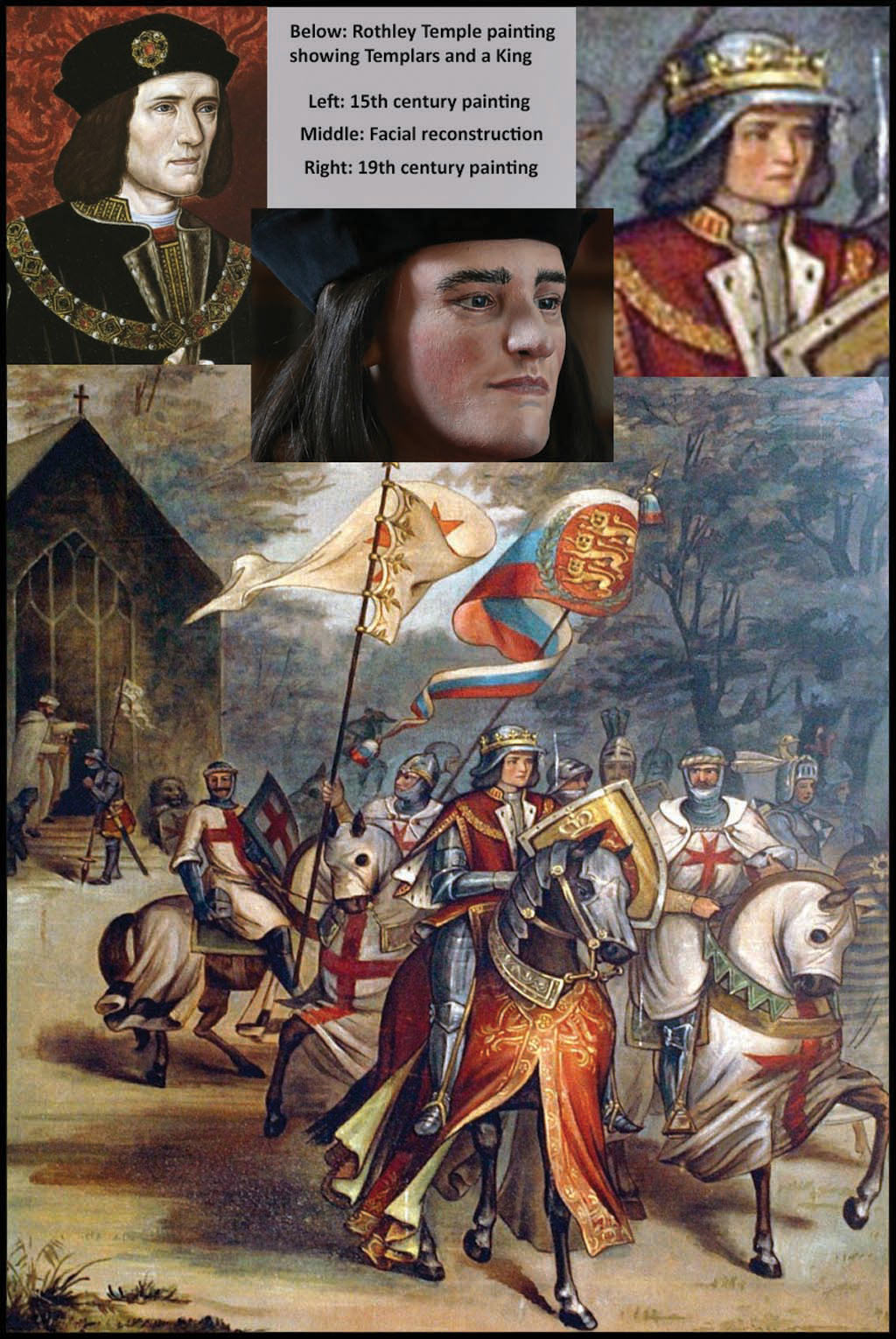 Above: The 19th Century Rothley Painting and King Richard III.
It should be noted that the effort to correct King Richard III's reputation dates back to Sir Edward Buck's publication of "The History of King Richard Third" in 1616. It's no coincidence that this first Ricardian effort did not surface until after the end of the House of Tudor with the death of Queen Elizabeth I.

Was the inclusion of King Richard III in the Templar painting Devine intervention, or was the painter an early Ricardian who drew parallels between the unjust and tragic endings of good men? Maybe the painting depicts the Templar martyrs protecting and leading Richard III to his final destination.